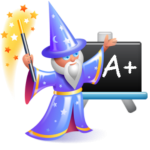 GradeWizard is a powerful, yet easy-to-use tool for tracking and predicting your academic progress. With GradeWizard you'll always know how you are doing in school.
GradeWizard is much more than a simple GPA calculator. It is both a grade tracker and a grade prediction powerhouse. It can track and predict everything from your cumulative 4-year GPA all the way down to individual assignments.
Unlock your academic potential with GradeWizard!
Features:
Useful throughout the school year, not just when final grades are given out
Color coded grade display
Track by terms, classes, grade groups, and individual assignments
Calculates guaranteed and potential grades
Calculates cumulative and major GPA
Fully customizable grading schemes
Configure how percentages map to letter grades and grade points
Can easily be set up for +/- grading, weighted classes, etc.
Configure default grading scheme and override it on a per-class basis
Pre-packaged with many commonly used grading schemes
Lite version is limited to:
Tracking only 1 Term
Tracking only 3 Classes
Otherwise fully functional
Download the full version of 
GradeWizard
 at the Android Market
Comments
comments